Applying for Financial Help from The Pink Fund
The Pink Fund's mission is to provide the financial support necessary to help breast cancer patients focus on healing while improving survivorship outcomes.
We may pay your cost-of-living bills so you can have peace of mind during treatment and recovery. Financial assistance is available for qualified applicants undergoing ACTIVE TREATMENT of breast cancer who can prove a loss of the applicant's working income.
The Pink Fund defines active treatment as the period after a positive diagnosis of breast cancer has been made (with a diagnostic biopsy), and during which therapies are being administered, including surgical procedures to remove the cancer (e.g. single or bi-lateral mastectomy, lumpectomy, axillary dissection, or sentinel node biopsy), chemotherapy or radiation.
PLEASE NOTE: For the purposes of The Pink Fund, active treatment does not include reconstruction surgeries or long-term hormonal therapies (including Tamoxifen, Fareston, Arimidex, Aromasin, Femara, Zoladex/Lupron, Megace, and Halotestin).
Applicants must have a household income of 500% or less of the federal poverty level based on last year's federal tax return. SEE CHART.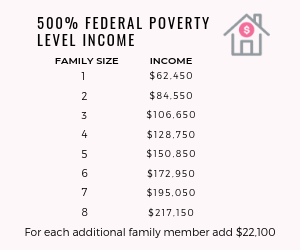 We follow a rigorous application process and require a significant amount of documentation.
Things to Consider
The Pink Fund is not an emergency fund and cannot provide immediate financial assistance.
All funding decisions are made on the 2nd Monday of each month by our Qualifications Committee.
You must provide proof of a current diagnosis via a signed, dated letter on official letterhead AND our medical information form, both completed by one of the following: Oncologist, Licensed Social Worker, Patient Advocate, or Nurse Navigator.
Amount of assistance given on short-term basis (up to 90 days) with a financial cap of $3,000 based on qualification, available program funds and need.
Includes possible direct bill payment of utility bills, mortgage or rent, car or car insurance payment, and health insurance premiums.
Bill must be able to be paid in full to be considered. No partial payments will be made.
Bills in the process of collection will not be considered.
Effective February 1, 2018: For the protection of your confidential information, The Pink Fund will no longer accept any documents supporting your application by email or fax.
Documents must be MAILED to PO Box 603, Bloomfield Hills, MI 48303.
The Pink Fund does not discriminate on the basis of race, religion, age, nationality, gender or ethnicity.
Please click here to access information about qualification guidelines, how to apply for breast cancer financial assistance & more.
If we discover that you have falsified information on your application for funding or have withheld information regarding The Pink Fund's definition of active treatment you will be required to immediately reimburse The Pink Fund for any payments administered on your behalf. The Pink Fund also has the right to suspend any further payments that you have previously been awarded.